OAK Junior Orienteering Festival
June 14th 2015 10:00am - 2:00pm
Organizers: Kate Knapp (Event Director), Ben Smith (Event Director), Karen Lachance (Membership), Joanne Woods (Membership), Adam Woods (Coach), Emily Ross (Assistant)
Map: Robert Burnaby Park
Congratulations everyone on a successful Junior Orienteering Festival! A BIG thank to the volunteers who helped make this event great and I hope all the participants had a lot of fun orienteering out in the sun.
If you would like to do some more orienteering this summer check out gvoc.whyjustrun.ca for any and all upcoming events this summer!

If you are a youth who wants to get better / have fun orienteering with other kids check out this page in August for information about how to register for the Fall Orienteering Adventure Kids (OAK) Program.
---
Come along to this special orienteering festival just for juniors!
Juniors are the stars of the show at this event, with special courses, prizes for the winners, and a BBQ afterwards. The meet location is next to a playground, an outdoor swimming pool, and a big field for soccer and frisbee, so there's lots to do after your run too! Stick around to have fun with others!
Cost is only $5 (plus $5 membership of the Greater Vancouver Orienteering Club, if you're not already a member - this gives you free access to weekly Wednesday evening training events for the whole year).
Start times are from 10:30 to 12:30; the registration desk opens at 10am.
Free coaching is provided for those who are new to the sport, or who want to improve their skills.
There are 3 regular courses for juniors, of various lengths and difficulties. If you're new, we recommend you sign up for one of the easier courses - you can always do a harder course once you've finished. Please sign up using the form on the right, so we have an idea of how many maps to print.
There will also be a special "string" course for toddlers, where the route is marked by a string.
Adults can run at this event too. As the focus is on the juniors though, we'll have you in a separate ranking.
We will be using electronic timing for this event - you can borrow a timing stick for free. Compasses are also available to borrow.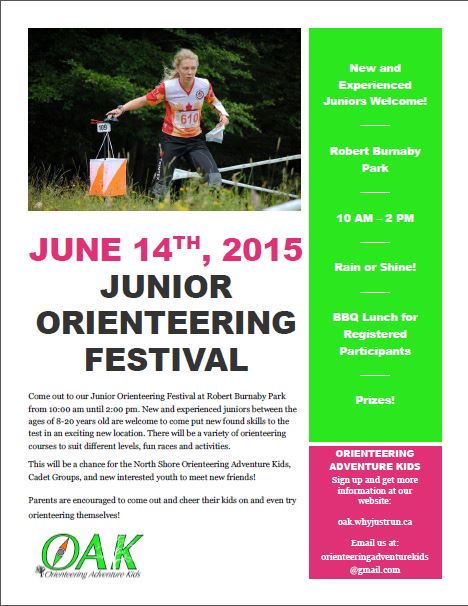 ---
Location